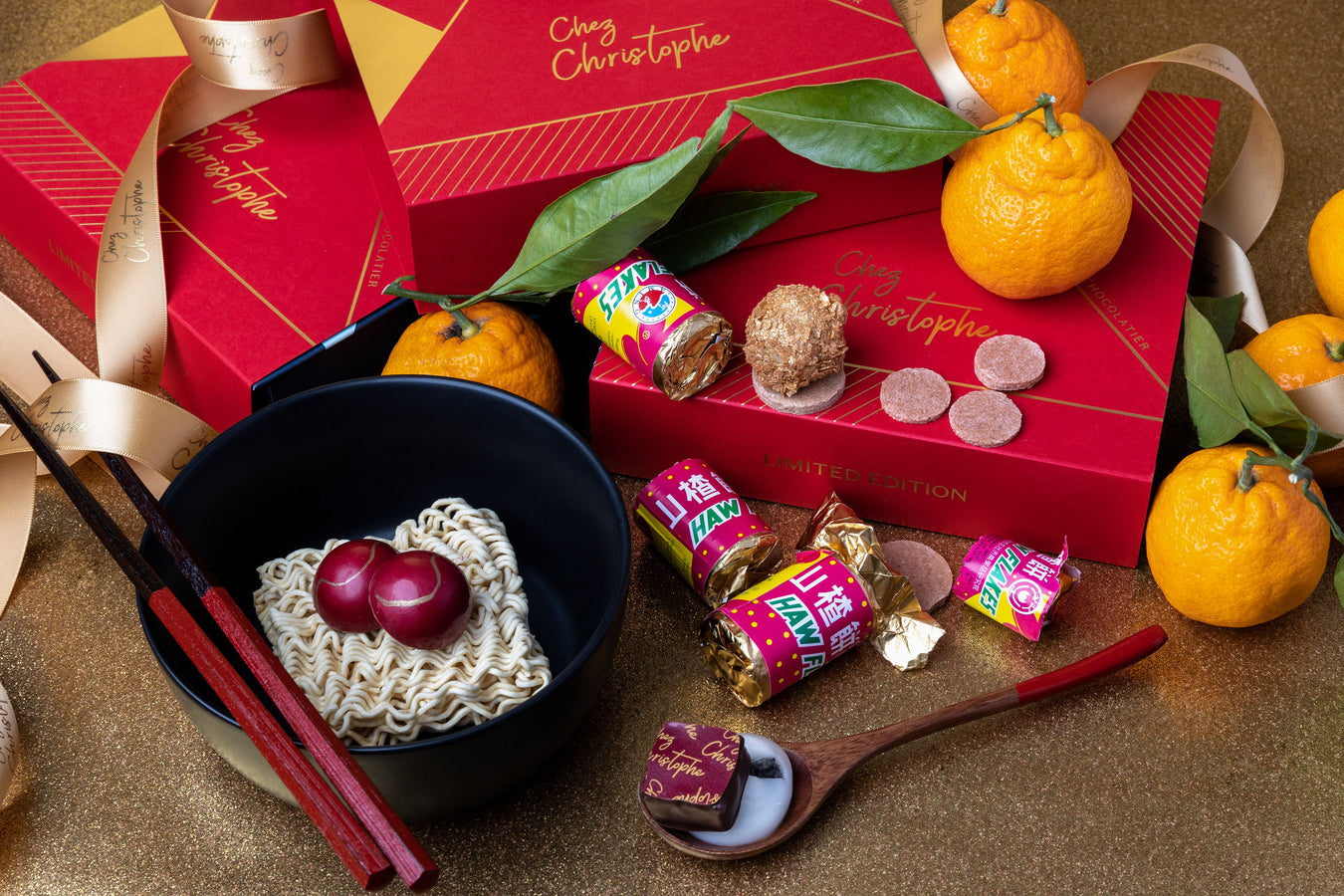 Lunar New Year - Year of the Tiger
"YEAR OF THE TIGER" A LIMITED EDITION LUNAR NEW YEAR COLLABORATION.
AVAILABLE FOR PICK UP IN-STORE STARTING JANUARY 22ND. PRE-ORDERS ARE NOW OPEN!
To celebrate Lunar New Year, Chez Christophe has collaborated with 3 Vancouver based Foodies to bring you a Limited Edition 9 piece Chocolate Box.
This box includes brand new Asian inspired flavours, 3 of which have been co-created with Deanna Woo (@deannawoo), Kirby Ip (@eatingwithkirby) & Diana Chan (@foodolgyca) who have come up with unique flavours inspired by their childhood and their Lunar New Year memories. 
CHEZ CHRISTOPHE X DEANNA WOO, EATING WITH KIRBY & FOODOLOGY
COLLABORATION FLAVOURS: 
• Deanna's Lucky Black Sesame - "Black sesame soup is a sweet and nutty Chinese dessert that my family and I would enjoy after a big Chinese feast. Sometimes my grandma would put "tong yuan", or glutinous rice balls, to add some texture! This dessert is very soothing and delicious." 
• Kirby's Ramen Crunch - "If there's only one word to describe me, it's NOODLES. These crunchy ramen noodles (along with the seasoning packet) were my favourite snack as a child. They're so addictive and satisfying! I hope you enjoy them as much as I do." 
• Foodology's Haw Flake - "Every Lunar New Year, my parents would have a special box of assorted sweets laid out on the counter. Haw Flakes would make a regular appearance year after year. They're thin, small pink discs made from the Chinese hawthorn fruit."
Available for pick up and shipping starting January 22nd. Limited quantities available. RESERVE YOURS ONLINE NOW!
You recently viewed
Clear recently viewed